As chocoholic, I know full well the joy of anything chocolate. Yes, even wearing it. Oh, well, wearing a chocolate-lovers apron that is. What fun to show off your own love of chocolate while you make that delicious cocoa cake. How about giving one to the friend who makes chocolate-dipped fruit all the time? Here are some of my favorite chocolate-lovers aprons.
Perfect Excuse to Wear Chocolate-Lovers Aprons
What is the perfect excuse to wear your apron just to show off your love of chocolate? Wait. Do you mean to tell me you need an excuse? I need no excuse at all. But, I do like to lots of aprons.
The Joy of Cooking with Chocolate
OK, I will admit that I love making anything that includes chocolate. This particular sweet has even found it's way into recipes that weren't desserts. The more of that healthy cocoa powder I can include in my family's diet, the happier I am.
Any time you cook, an apron is a nice advantage. I insist on aprons with pockets. There's just so many reasons to need pockets. Not the least of which is to hold the piece or two of chocolate that I am nibbling on.
From experience, I can tell you that a chocolate-lovers apron is a huge benefit when you are melting chocolate. I make candies often. Melting chocolate is just a bit messy. OK, OK, my cooking of anything is just a bit messy. But that makes wearing an apron important.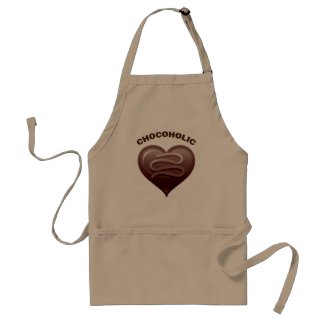 CHOCOHOLIC APRONS
by
dgpaulart
View other Chocolate Aprons at
Zazzle.com
Gifts of Chocolate-Lovers Aprons
course, I have many friends and relatives who also enjoy cooking with chocolate. For them, a chocolate-lovers apron makes a great gift.  Just think, no sizing requirements needed. Not expensive. And definitely appreciated.
If you want to make the apron gift more elaborate, add in some gourmet chocolate bars. Maybe include a new chocolate recipe book. Even a chocolate melting pot. Any of these ideas would go great with chocolate lover's aprons.